---
[Home | Artists Bio | S.L.G. Bio | Recordings | MP3s | Reviews | Gigs | Orders | Contact]
---
The Artist
Scott Lindenmuth is a guitarist with few boundaries. He has been described as "One of the Pacific Northwest's greatest instrumentalists" and a "Genre-crossing virtuoso". Whether performing with his contemporary instrumental group the Scott Lindenmuth Group, playing jazz standards and originals with the Scott Lindenmuth Trio, or performing as a solo classical guitarist, Lindenmuth is expanding his reputation as a cutting edge composer, creative and intuitive improviser, and master technician. A master of many styles Seattle guitarist Scott Lindenmuth is one of the few guitarists in the world today that can easily transition from jazz to electric blues, classical to rock, funk, and fusion displaying fluid technique and virtuosic ability in all genres. His list of influences range from Jimi Hendrix to Wes Montgomery, Andres Segovia to Pat Metheny. As a composer he has released four albums of original compositions with his group which received rave reviews in major publications including Down Beat, Guitar Player, Guitar World and Jazziz. They have been featured on radio stations throughout the U.S., with sales in countries around the world. He has also composed many compositions for solo guitar. Scott Lindenmuth is regular performer on the Pacific Northwest music scene and has appeared at the regions top venues for live music. With a growing international following Scott Lindenmuth's web sites received over 1.6 million web hits worldwide in 2017. Known in the '80s and '90s as the go-to guitar instructor in the Northwest his students include a who's who of famed Seattle area guitarists performing in bands such as Nirvana, Soundgarden, Rail, Metallica, Tom Waits, Metal Church, Sanctuary, Alan White, and the Gothard Sisters. Recently Lindenmuth's students filled the guitar chair in the 2010 and 2012 Washington Music Educators Association All-State Jazz Band. From 1975 to 1979 Lindenmuth attended the Cornish College of the Arts studying with Gary Peacock, Jim Knapp, Ian Drummond, Don Mock, and Bern Herbolsheimer. He graduated with a Bachelor of Arts degree in jazz and classical guitar performance and composition.
The Critics
"Seattle's big secret ... this guy must be the local legend ... in the melodic tradition of Metheny ... Lindenmuth's talents as a composer and player should place him right alongside such contemporaries as Mike Stern, Scott Henderson and Frank Gambale."
-Bill Milkowski/Guitar World
"Shaping the future of electric guitar in technology, musicianship and composition ... a clear expansion into the more sophisticated jazz of the future ... Lindenmuth has superb control of the electric guitar and all of its intrinsic delicacies ... transports the experienced listener through the pioneering genres of rock and jazz."
"Special commendation for meritorious musicianship."
"Compelling concepts ... takes the listener to vivid destinations ... definitely on the buy list."
"Lindenmuth's technique on acoustic and electric guitars is quite incredible...you should hear this record...you'll be pleasantly surprised by Scott Lindenmuth's group."
"Lindenmuth is justifiably considered one of the finest guitarists in the greater Northwest ... sparkling, inventive, technically astute yet musically passionate."
-Tom Phalen/The Seattle Times
"Penalty Phase is a must have for fans of progressive instrumental jazz/rock as well as those who appreciate hot guitar playing."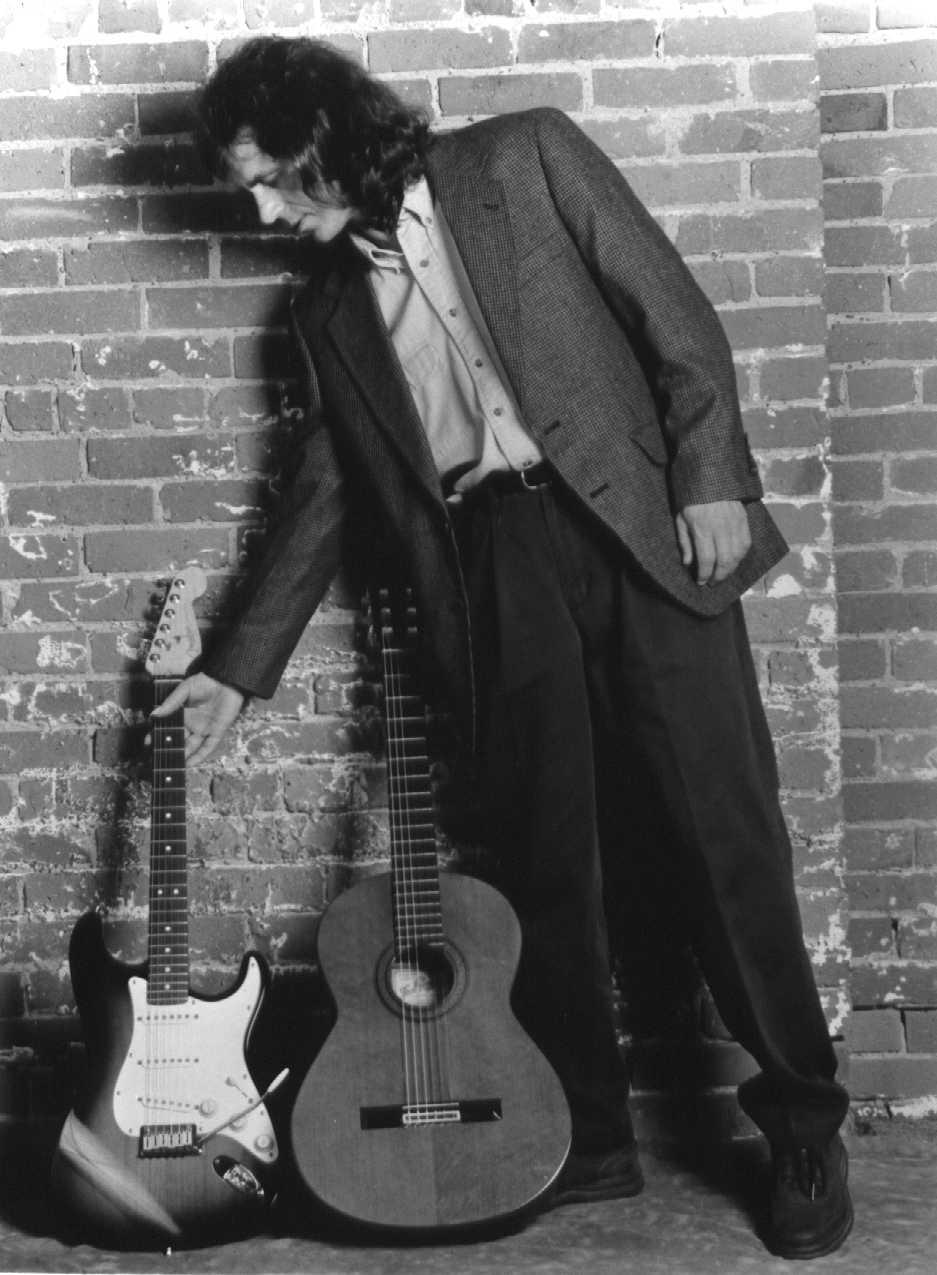 Scott Lindenmuth
More Photos
copyright © 1998 - 2018 - Dark Stream Records - All Rights Reserved
Also visit:
---
[Home | Artists Bio | S.L.G. Bio | Recordings | MP3s | Reviews | Gigs | Orders | Contact]
---